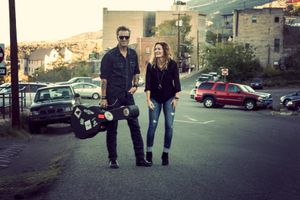 Bio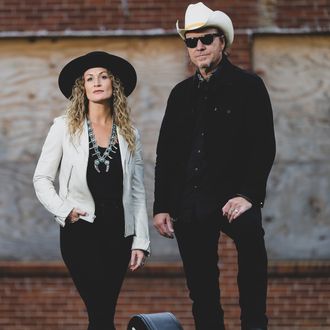 SURRENDER HILL
For years, Robin Dean Salmon and Afton Seekins made their living on the road.As the songwriters behind Surrender Hill, they played more than 200 shows annually, sharpening their blend of soul, country, and rock & roll one gig at at ime. They weren't just an Americana duo; they were full-time world travelers, too, funneling their experiences into the story-driven songs and autobiographical anthems that filled albums like A Whole Lot of Freedom.Things changed in 2020, when a global pandemic brought Surrender Hill's touring schedule to a sudden halt. From their home in northern Georgia, Robin and Afton watched as the country around them struggled to regain its footing. They began writing songs that responded to the modern moment—songs about division, struggle, survival, and redemption, anchored by melodic hooks and diverse arrangements. Some songs nodded to the band's longtime appreciation for mellow, melancholic Americana music. Others skewed closer to honky-tonk and western swing,influenced by larger-than-life Texans like Bob Wills and Willie Nelson.The result is Just Another Honky Tonk in a Quiet Western Town, an ambitious double-album project that shows the full reach of Surrender Hill's abilities. The first record,Just Another Honky Tonk, unfolds like the jukebox playlist of some neon-lit cowboy bar in the Wild West, full of Telecaster twang, classic melodies, and the occasional dobro. It's a lighthearted record, stocked with original songs inspired by Robin's childhood on a Texas ranch. An award-winning rock & roll frontman who spent the first half of his adolescence in apartheid-era South Africa, he relocated with his family to along horn ranch in Texas during the early '80s. When the teenage Robin wasn't listening to a cross-cultural mix of the Sex Pistols, the Texas Playboys, Marty Robbins, and the Clash, he'd participate in trail drives, spending his nights sleeping beneath the stars of a wide-open Texas sky. "I'll always remember the sound of these older cowboys sitting around the campfire during the evening, telling stories," says Robin, who pays tribute to those memories with Just Another Honky Tonk's opening track, "Cowboy Campfire Song."Just Another Honk's counterpart is Quiet Western Town, an Americana record that digs deep into the lonesomeness of today's world. "Tumbleweed" is a song about isolation, inspired by the shuttered store fronts and empty sidewalks that turned once-thriving cities into ghost towns during the early months of the Covid-19 pandemic. "Call Upon My Friends" celebrates the social circles that can provide support during times of struggle, while "Love Your Neighbor" nods to the dividing lines that run throughout American society, with lyrics that call for open-mindedness and compassion. "Nothing but the Skin" cuts through the divisive struggles we have all faced in recent times and beckons to wake up to the possibilities of finding deeper meaning through real human interactions.The diversity that runs throughout the two-disc Just Another Honky Tonk in a Quiet Western Town is emblematic of the bandmates' own experiences. Before meeting Robin at a gig in Sedona, Arizona, Afton Seekins grew up splitting her time between an Alaskan fishing village and an Arizona frontier town. A talented dancer, she moved to New York City during her 20s and found success as a choreographer, although her songwriting career ultimately brought her back home to Arizona. Salmon,
too, spent time in New York, where he signed a major-label deal with Sony Music as the frontman of the rock band See No Evil. A decade later, he found himself unable to shake the rootsy sounds of his childhood on the ranch, where cattle workers would strum country songs after a long day's work.Inspired, he relaunched a career as an alt-country songwriter, eventually forming a duo—and, later, a amily—with Seekins."We've both been making music for a long time," he says. "There have been times where each of us has struggled with self-doubt, but together, Afton and I have found our own oneness. There was her and there was me, but now, there's Surrender Hill. We've found our stride as people and as a band, and that really shines through on this record. We're exploring two genres over two different albums, but together, it's one project."That feeling of togetherness extended to the project's recording sessions. Across the country, bands like Surrender Hill found themselves stuck at home, their touring schedules canceled due to the pandemic.Robin and Afton reached out to many of their housebound friends,asking musicians like pedal steel player Mike Daley and guitar legend Mike Waldron to contribute to the record from their own homes.Despite being created during a quarantined year,Just Another Honky Tonk in a Quiet Western Town brought its cast of songwriters and sidemen together, emphasizing collaboration and camaraderie along the way.Don't let the band's name fool you. Surrender Hill is still fighting the good fight, responding to the challenges of contemporary life with music that's ambitious, hook-filled, topical, and artistically diverse. Just Another Honky Tonk in a Quiet Western Town is an album that creates its own geography,setting up camp at the crossroads of Americana, outlaw country, and western music.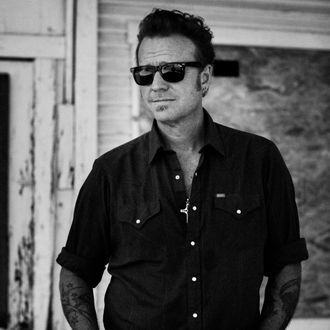 ROBIN DEAN SALMON
"Robin Dean Salmon is an anthropologist of sorts. At times living the life of a gypsy, traveling the world, amassing the experiences it would take most several lifetimes to accumulate. From this he has developed an intrinsic understanding of what it means to be human. A base insight that somehow eludes most, perhaps due to lack of awareness or just simple indifference. It is songwriters like Salmon who help us to look at ourselves and this world in which we live with a bit more clarity." -HANNAH CROWELL-
Robin Dean Salmon currently lives in Northern Arizona and has recently Released his 10 album "Blackbird".
Born in Durban South Africa, Robin Salmon came of age in a disjointed country plagued by violence and political turmoil. His father's disaccord with the apartheid favoring government led to a pending threat of him becoming a banned person, which at the time carried the sentencing of house arrest that was doggedly enforced. The family fled to America in 1977, settling outside of San Antonio on the largest long horn cattle ranch in the country. Life was reinvented and the way of the rancher instilled in the fabric of young Salmon. Spending the impressionable years of a young man's life in the Texas hill country in the early 80's, Salmon's musical roots were a cross pollination of musical legends Bob Wills, Johnny Cash and Marty Robbins and the contemporaries of punk rock, The Sex Pistols, U2, The Clash and The Ramones. At 15 Salmon got his first guitar, wrote his first song and realized life as a performer was an inescapable dream.
Fresh out of high school Salmon formed the band, See No Evil, which would later prove to be a success for it's four young members. While the band was living in Austin and playing every obliging hole in the wall, Salmon penned a song for International Youth Year, a festival held by the General Assembly at the United Nations in New York. The opportunity to perform live before the United Nations, and the intoxication of the vitality and grit that was the New York in the 80's, Salmon and his fellow See No Evil members packed up and moved their outfit to the city. While living in a Greek Community of Queens and surviving on white rice and kool-aid, the band played steady gigs at the infamous CBGB. At one of these late night gigs legendary producer Richard Robinson of Lou Reed and David Johnson notoriety discovered the young musicians. Impressed with the band and particularly Salmon's songwriting, Robinson secured the band a deal with Epic that would produce two records. 'See No Evil' and 'Songs', both produced by Robinson, were released to rave reviews.
Nominated for 3 prestigious New York Music Awards, the band toured tirelessly until 1992 when Salmon was in a motorcycle accident that nearly ended his life. Faced with months of rehabilitation and an arduous recovery, the New York City winters and brazen population was something Salmon was not eager to endure. A lover of the balmy comforts of the south and her soulful music, he relocated to Atlanta.
The inception of FMG Studios, affectionately named for his dog Fat Muddy George, came from the desire to wear the hat of both recording artist and producer. During FMG studios existence, Salmon produced over 40 records spanning virtually every musical genre from Baptist gospel records to heavy metal. He also released several independent records of his own; a 1994 acoustic album 'Aiming For The Sun' and 1997's 'High Energy Alternative Power Pop' with his then band, Christopher Robin. Evolution as an artist is inevitable and Salmon was no exception with his shift from Punk Rock Manhattanite to the roots infused sound of a Bohemian balladeer. Referencing his Texas roots and country influences, Salmon released 2 albums under the name Jack West, 'Gunslinger' and 'Suicide Alley', both applauded by the critics. Hal Horowitz of Creative Loafing said, "'Gunslinger' fits comfortably into the current crop of alt-country traditionalists". Heavily influenced by the work of other respected artists, Salmon references Rodney Crowell's 'Houston Kid' as being a turning point in his musical direction. The honesty of the human condition and rawness of Crowell's story telling was something that Salmon responded to and worked to incorporate in his own work. Americana music, undecorated and intelligent, was a genre of music that resonated deeply with a South African refugee raised on a Texas Longhorn ranch.
Robin had the good fortune of drawing upon the services of the afore mentioned artist, Rodney Crowell. Collaborating on the track, 'Maybe I Do', featured on the album "Gasoline". Salmon and Crowell have a vocal synergy that produces a beautiful, albeit dismal, account of two people broken by the lonesome struggle to find love. In the words of Rodney Crowell himself, "Robin Salmon is smart, funny, poetic and in possession of a melodic wit. Anyone got a problem with that?" Few would dare disagree.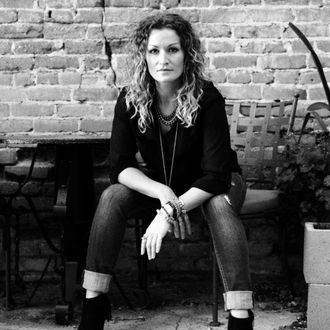 AFTON SEEKINS SALMON
"One could be forgiven for thinking that singer/songwriter Afton Seekins emerged, fully-formed, straight from the mind of the muse. Afton brings a level of sophistication, maturity, and heartfelt emotion to her songwriting that would be the envy of any writer twice her age. With an undeniable vocal talent in the range of Dolly Parton and Bonnie Raitt, and the poise and presence of one who was born to be on stage, Afton is a creative force that deserves to be heard as well as seen." Paul Koenig, PK Gregory Music

Originally born in Alaska, then moving to Arizona when she was five, Afton spent her childhood traveling back and forth between the two. School years were spent in the frontier town, Camp Verde, in Northern Arizona and summers in the great Halibut fishing town, Homer, located on the Kenai Peninsula in Alaska.  Afton comes from hard working frontier people. One grandfather was a preacher, the other a fisherman. Her mother and father were entrepreneurs who started a water hauling business in Alaska and later a heavy construction business in Arizona. All were people who knew how to live off the land and knew the value of family. Hard work and strong ethics where instilled in Afton Seekins from a very young age.
As a young girl, music and dance became Afton's true passion. When she wasn't concentrating on her studies or finishing her daily chores she was singing and dancing. In high school she worked hard and graduated a year early. Immediately, she went to college and after her third year, she realized she wasn't following her heart and decided to make a change. While contemplating her next move, Afton moved back to Alaska and reacquainted herself with the extremes of the great outdoors. Taking risks became just another one of her passions.

With new found courage and direction, Afton moved to New York City to pursue professional dance career. With the aid of diligent perseverance and the ability to quickly grasp what she was learning, she was working professionally within months of her training. She was soon appointed as the Artistic Director of The Hip-Hop Dance Conservatory and began working as the Rehearsal Director/Choreographer for Spotlight Live in Times Square. Her work for Spotlight Live has been featured on many programs including The Today Show, Good Morning America, MTV and VH1 to name a few.

After 8 years in New York City, Afton felt her roots and the inspiration to challenge herself creatively calling her back home. Afton moved back to Arizona in 2010 to concentrate on her other creative calling. That of a singer/songwriter.  She found her personal journal, that had kept her company for so many years, was also her foundation as a songwriter. She taught herself to play guitar and within months was performing her songs in local venues. Afton soon found herself surrounded by local accomplished musicians who helped teach and nurture her growth as a singer/songwriter.